Marketing doesn't need to be complicated to have an immediate impact on your sales. Digital marketing can be one of the most powerful ways that businesses use, but it can also be complex, or even intimidating to newer business owners. But if you start simple and work your way into more advanced strategies, you'll find that your business has a whole new kind of ROI coming its way.
The Simple Approach
A simple approach to creating effective marketing focuses on three pillars of effective digital presence; traffic sources, destinations and actions. Here's a look at each, in order.
Traffic sources – Every business needs customers to thrive. The reality is, though, that the people you want to buy from are already active outside of your business. To win at digital marketing, think about how to find your target market on different platforms. To start, there are three sources of traffic: search engines (Google and Bing), social media platforms (LinkedIn, Facebook, Instagram, etc) and digital ads networks.
Digital destinations. Once you've determined your traffic sources, figure out where to send them. Here are potential destinations for traffic—these should change depending on the size of your business, as well as its type (Solopreneurs, SMEs or enterprise) – WhatsApp, Website, Phone Calls, and office/shop visits.
Actions. What would you want your visitors to do when they get to your destination? Buy something? Place an order? Enquire? Request a quotation? Whatever action you prioritise, remember it's your business that should benefit. So, depending on the type of business you're involved in, picking the right destination may mean selling online, accepting telephone orders or asking people to come to your physical shop.
Weekly Marketing Todo.
You're hot stuff—and we assume that you're starting from scratch. So each week, we'll ask you to take a specific action that will improve your skills and help to make your business a success!
Leave a comment below. Share your thoughts and questions on the subject. As a marketer or business owner, it's important that you increase your visibility online. There are a few ways to do this, and participating in online conversations like these is one of them. Make your comment before you go on – thank you!
Create your own Simple Digital Presence Plan following the Pre-school example below: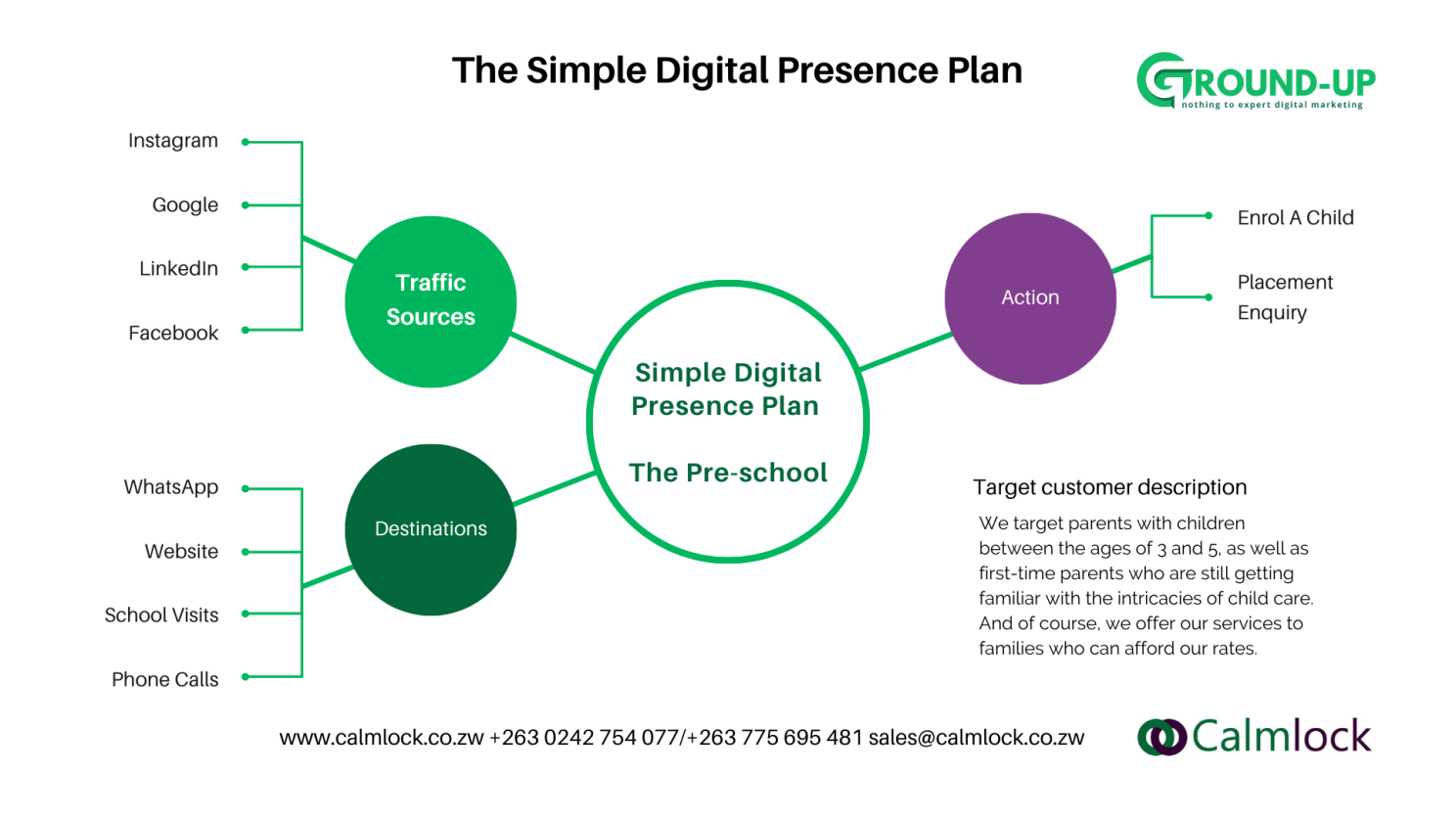 3. Create a Google Business Profile for your business. Here is a tutorial to walk you through the process.
After all, here's proof you don't need to be a genius to get started in digital marketing. Subscribe to this newsletter to receive this useful practical information weekly.